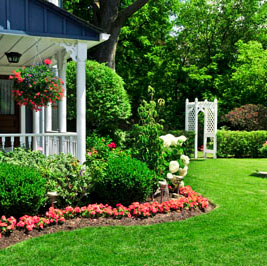 The STAR Awards
The STAR Award program has been designed to recognize homeowners who take good care of their property. Great Curb Appeal will be the primary factor in judging the award winners, and specific criteria has been created that will apply to all Hidden Hills homes.
RECOGNITION CATEGORIES
Bright STAR-a property that exemplifies the high standards of care, overall appearance and design/health of landscaping, and adherence to the CC&R's
Shooting STAR- a property that is a "work in progress" and is very close to completion. The owner has shown significant progress in making changes/improvements.
Rising STAR- a property that is beginning to make a concerted effort for change and improvements, but may not have the completed look desired to be a Star. (Honorable Mention—Encouragement).
Winners of the Bright STAR Award will receive a $25 gift certificate at Hidden Hills Country Club. Board members hope to solicit prizes for the other winners, such as a gift certificate for additional landscaping needs.
Recipients will be featured in the monthly edition of The Herald and on the marque at the Guard House. Additionally, they will have the option of placing the Star Award sign on their property.
A recipient may not be awarded STAR status more than once during the year (Jan 1 to Dec 31.) All three awards may not be awarded every month.
Contest Periods
January, February and March will be considered winter and awarded accordingly. April through September will be considered summer and awarded monthly. October, November and December will be considered fall and will be awarded accordingly, including holiday themed awards.
Judges
The Star Program Judges will be appointed by the Board for a period not longer than 2 consecutive years.
GUIDELINES FOR THE STAR AWARD
The following guidelines will focus on the curb appeal of the property, without differentiation between naturescape or traditional landscape.
Buildings, fences porches, patios and other structures on the property must be well-maintained with no deterioration, mold or mildew, flaking paint or other damage.
Roofs, walks, driveway must be swept clean of all debris and pressure washed to eliminate dirt, moss, mold, or mildew.
Walks and driveways should have minimal or no cracks or shifting.
Spanish moss, sticks and other debris should be removed from shrubs, flowerbeds and mulched areas.
Selected properties must be well groomed (properties can have a natural, wildscape appearance, but grass must be healthy, mowed, relatively free of weeds, and the perimeter edged. Mulch should be attractive, free of debris, and well-contained within the designated area).
Landscape should be attractive and pleasing to the eye.
Plants must be healthy, beds well maintained. Shrubs should be pruned and trimmed. Any dead or diseased shrubs or trees should have been removed, holes filled in finished with sod, mulch, groundcover or other material appropriate to the landscape or naturescape design.
All selected properties should conform to the Covenants, Conditions and Restrictions (CC&R's) including, but not limited to the following:
No commercial vehicles, boats or other recreational vehicles parked outside of a closed garage for more than 48 hours.
Property must be free of litter, junk, and debris.